7 things you should know about sashiko thread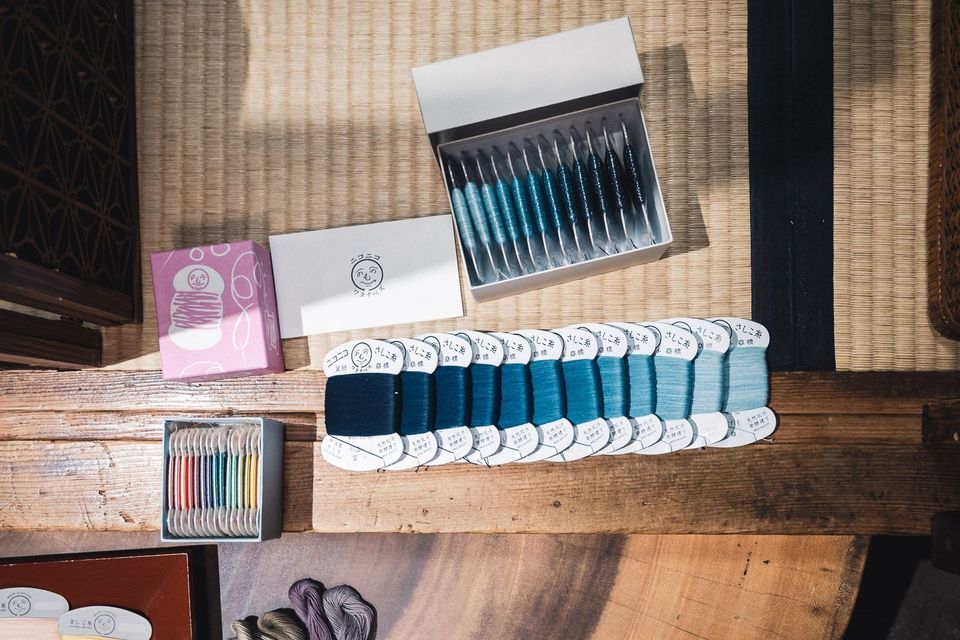 Sashiko thread is quite different from embroidery floss. Find out about sashiko thread's strenghts and how to use it.
How do I keep my sashiko yarn tangle free?
To keep your sashiko yarn or thread tangle free, you can simply braid the thread after you cut it. Slide off the paper that is holding the thread together, cut where there is a tiny knot holding the yarn together, and braid loosely.

If you want to remember which thread you used, you can slip the paper back on before braiding so you don't lose it.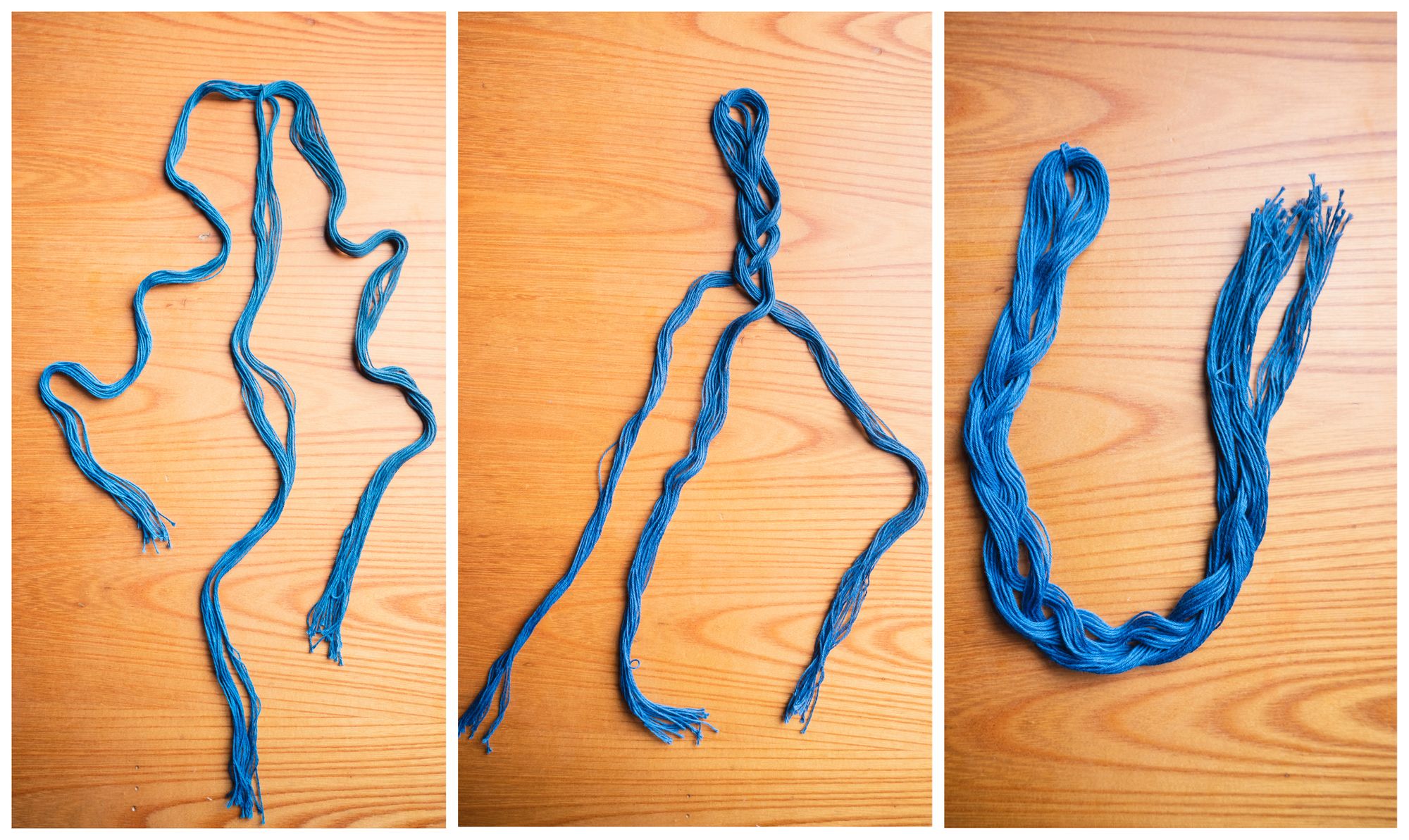 Now you can pull out single threads from the top, where your paper sits if you slip it back on, without creating a mess.
You could also use a piece of cardboard and just wind your thread around it. Some sashiko thread actually comes on bobbins, like cosmo hidamari sashiko thread.
OR!!!
You can use these wonderful wooden bobbins to store your thread in the most beautiful and functional way possible.
How many threads do I use for sashiko?
Normally you use single thread for sashiko stitching. If you want to achieve a bold design, it is better to use thicker thread instead of two threads or a double thread. Thick sashiko thread or kogin thread both work great for bold designs.
If you use two threads instead of one, the threads may divide and let the fabric peak through, which would make for a busy result instead of a clean design.
That being said, it is not impossible to stitch with two threads at once. Even if the result is a little uneven in the beginning, it is likely that it will even out after a couple of washes. Especially if you use sashiko thread, not a substitute like embroidery thread.
Just to make sure we're on the same page:
Sashiko thread consists of several plies but is traditionally used without dividing it up. So when I say you use single sashiko thread, I don't mean a single ply, I mean the undivided thread.
Are there different thicknesses of sashiko thread?
Yes, sashiko thread comes not only in different colors but also in different thicknesses or weights. Usually, a brand will offer three variations:
Light or thin thread
Heavy or thick thread
Kogin thread (extra thick)
For intricate designs using thin thread will cause less puckering. For bigger patterns a heavy thread is more suited. If you do Koginzashi or simply want a bold design that stands out, you can use Kogin thread.
For more detailed information on the differences between kogin thread and sashiko thread, check this article here.
What can I use instead of sashiko thread?
If you want an alternative to sashiko thread, size 8 perle cotton or regular cotton embroidery floss will do the job. But you can even use normal hand-sewing thread and achieve a beautiful result.
Sashiko thread has no sheen, unlike embroidery floss. So your stitching result will look quite different if you substitute with embroidery floss. Likewise, hand-sewing thread will result in a much airier look than the thicker sashiko thread.
Which thread is best for your project depends on what look you want to achieve.
When substituting sashiko thread with other threads, keep in mind that sashiko thread doesn't glide as easily as perle cotton or hand-sewing thread. That means you don't have to rely on knots to hold your stitches in place. If you substitute with thread that doesn't stay in place as easily as sashiko thread, you may want to use knots to make sure your project doesn't come undone after you've finished it.
What is the difference between sashiko thread and embroidery floss?
There are two major differences between sashiko thread and embroidery floss:
sashiko thread is matte whereas embroidery floss is glossy
sashiko thread is non-divisible whereas embroidery floss can divided into different plies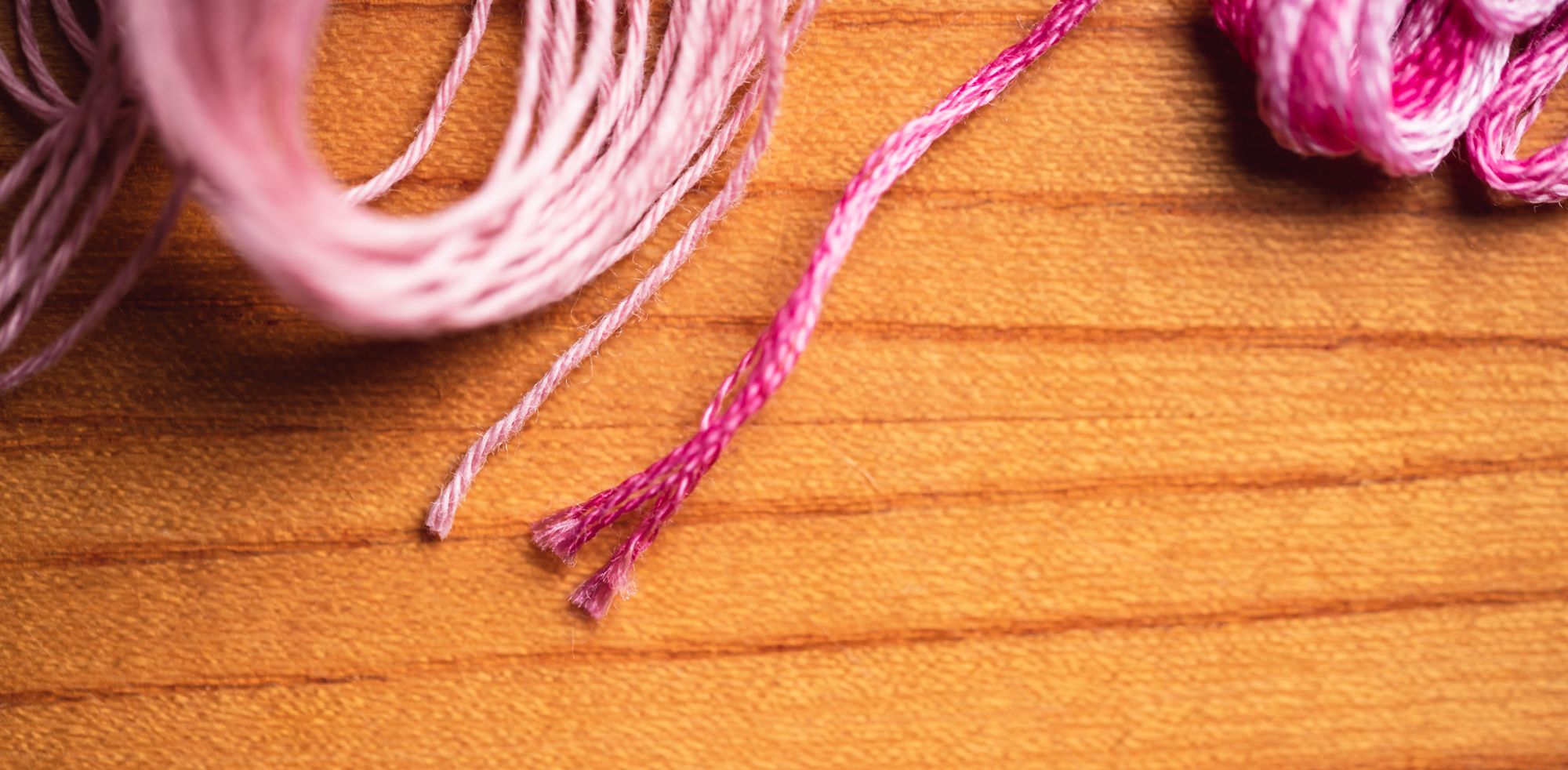 If you try hard, you will probably succeed in pulling sashiko thread apart. But it's simply not meant to be used that way.
You prefer glossy floss? Go for it. But the result will be a sashiko-embroidery hybrid, not traditional sashiko. Just saying...
For more in-depth information about the differences between sashiko and embroidery, check out this article.
Or find out about the differences between sashiko thread and kogin thread.
Why is sashiko thread different from embroidery thread?
Sashiko evolved out of a need to mend and protect before anything else. So sashiko thread was made to perfectly suit this purpose.
In order to make fabric stronger, using a strong thread is common sense. No matter how hard you try, you won't be able to rip sashiko thread apart with your hands.
Sashiko thread is made up of several soft cotton plies which are twisted so they don't come apart. But thanks to its softness and twist, sashiko thread will form a unity with the fabric it lies against after a bit of wash and wear.
The softness not only helps with the unification process, but is also a welcome property when the thread lies against your bare skin. Knee and shoulder patches mended with sashiko are very comfortable.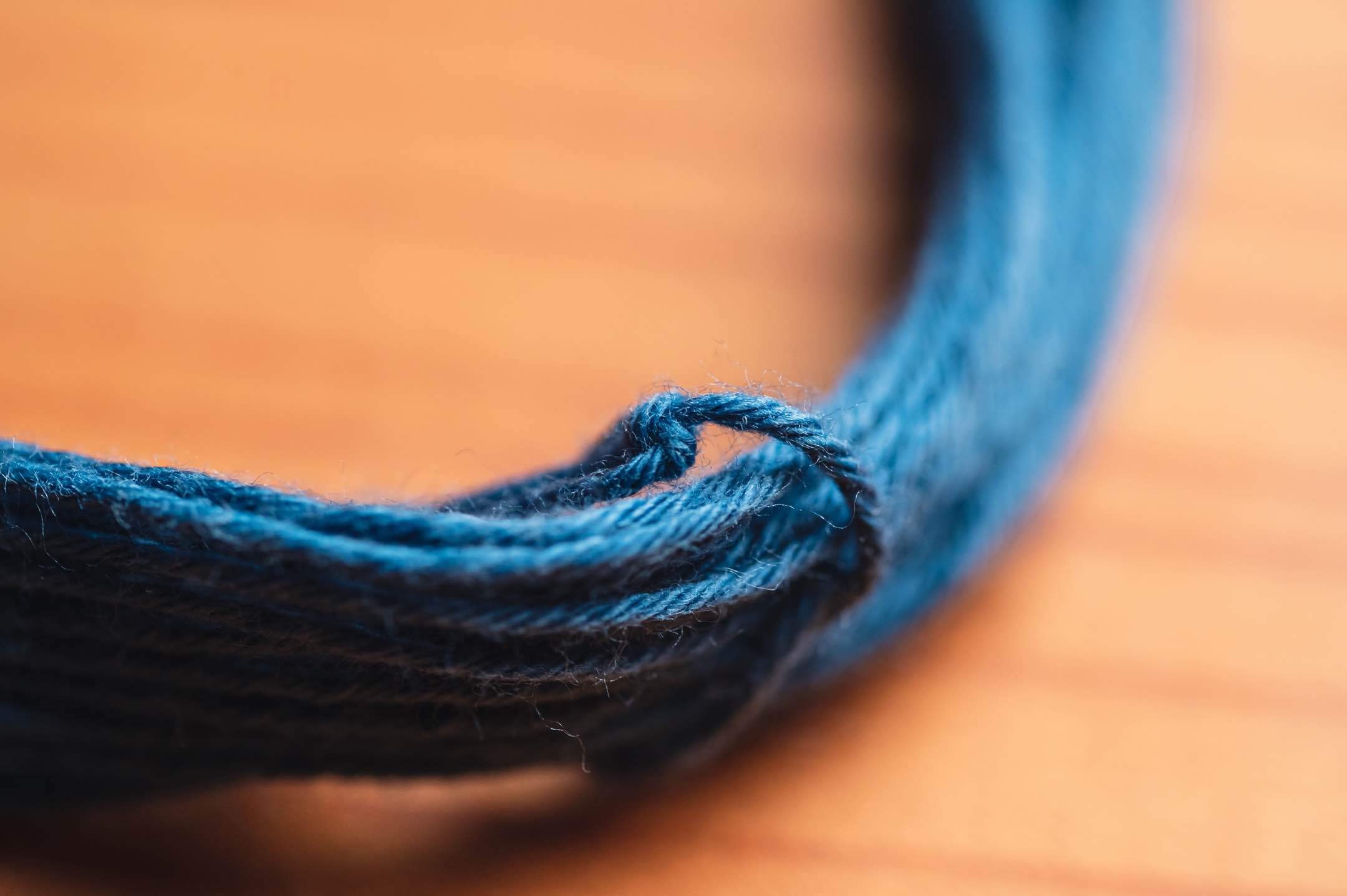 Which color should I choose for my sashiko thread?
Originally, sashiko thread was only available in white or rather off-white and red. Red sashiko thread was only used for special occasions.
Nowadays, there is a multitude of colors available. Daruma thread  alone is available in 29 beautiful colors. Then, there is also variegated thread. And of course, you could combine several colors in one project which leaves you with more than 271.827 color variations!
Which color is best for your project is entirely up to you and your fabulous sense of fashion.
Which are your colors?