How to use a sashiko thimble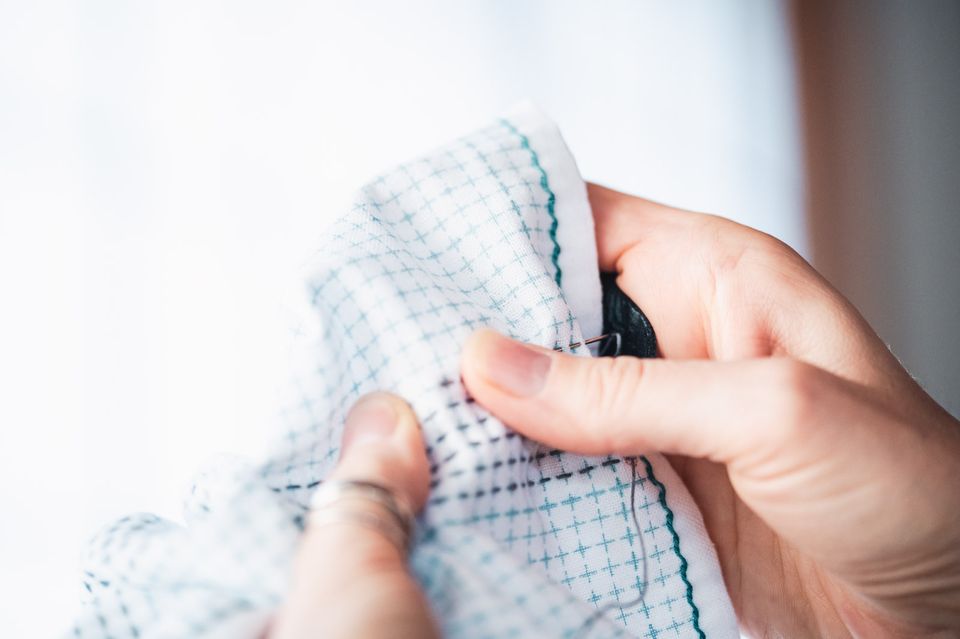 Sashiko benefits greatly from using a thimble. Three reasons why you should use a thimble:
You can stitch faster
Your fingers will experience way less strain.
But in order to get all these benefits, you need to use your sashiko thimble correctly.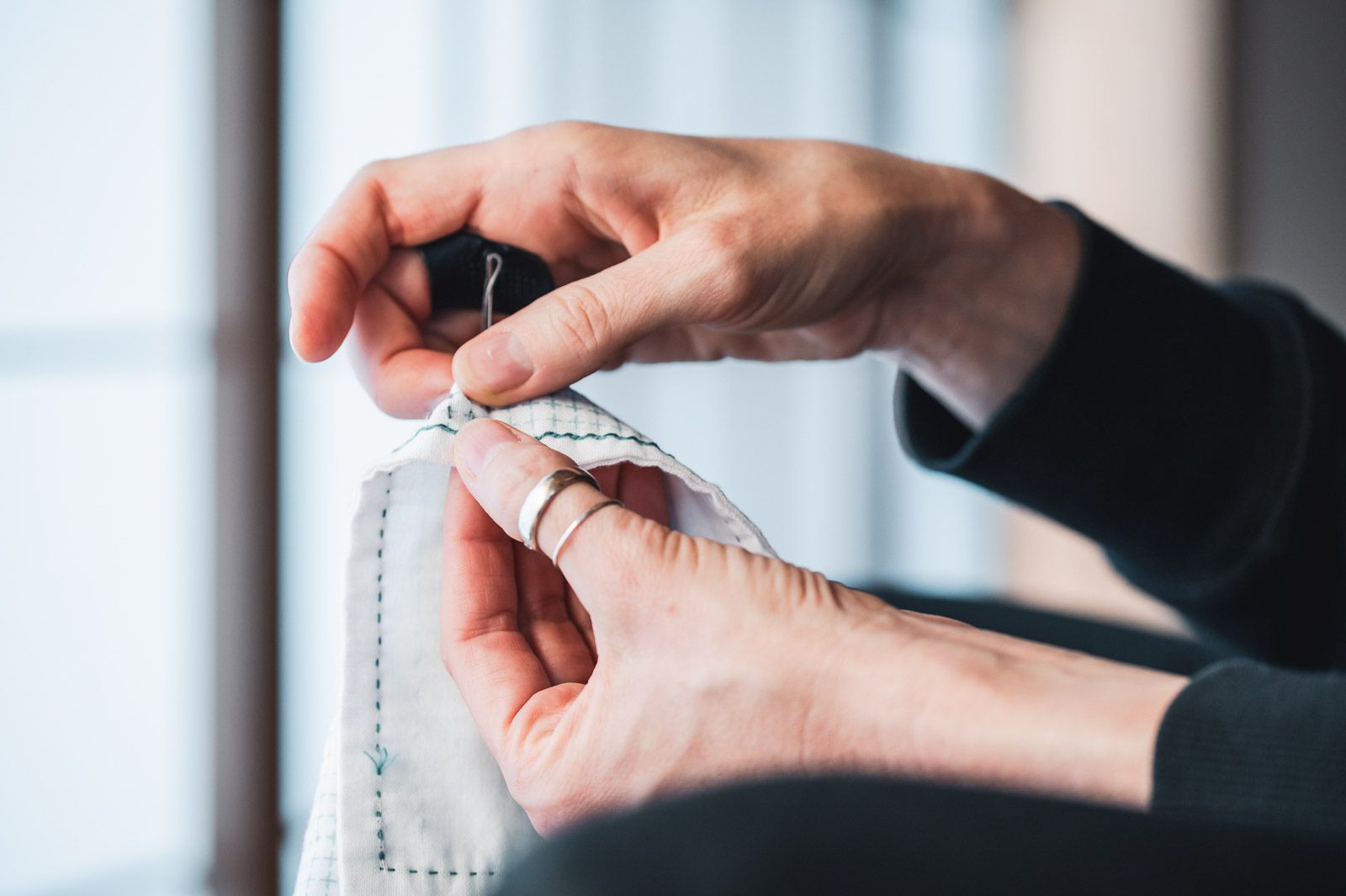 Hey, there!
My site contains affiliate links. So if you buy something through one of those links, you don't pay extra but I get a commission which helps keep my blog and my stitches running. Thanks!
The two different thimbles for sashiko
The first thing that comes to your mind when you hear "thimble" is probably the kind of thimble that sits on top of your finger. While these are useful for embroidery or other sewing projects, they are not a great fit for sashiko.
Sashiko uses a thimble that sits where your finger is connected to your palm and has a small plate attached that rests on your palm. The thimble is not only used to push the needle through, it also helps steady the needle during the stitching process.
Sashiko thimbles are called 皿付き指抜き saratsuki yubinuki in Japanese and are readily available in most stores that sell sewing materials in Japan. These days, you can easily find them online.
Soft sashiko thimbles
Soft sashiko thimbles are usually made of leather. They are very comfortable and fit very well.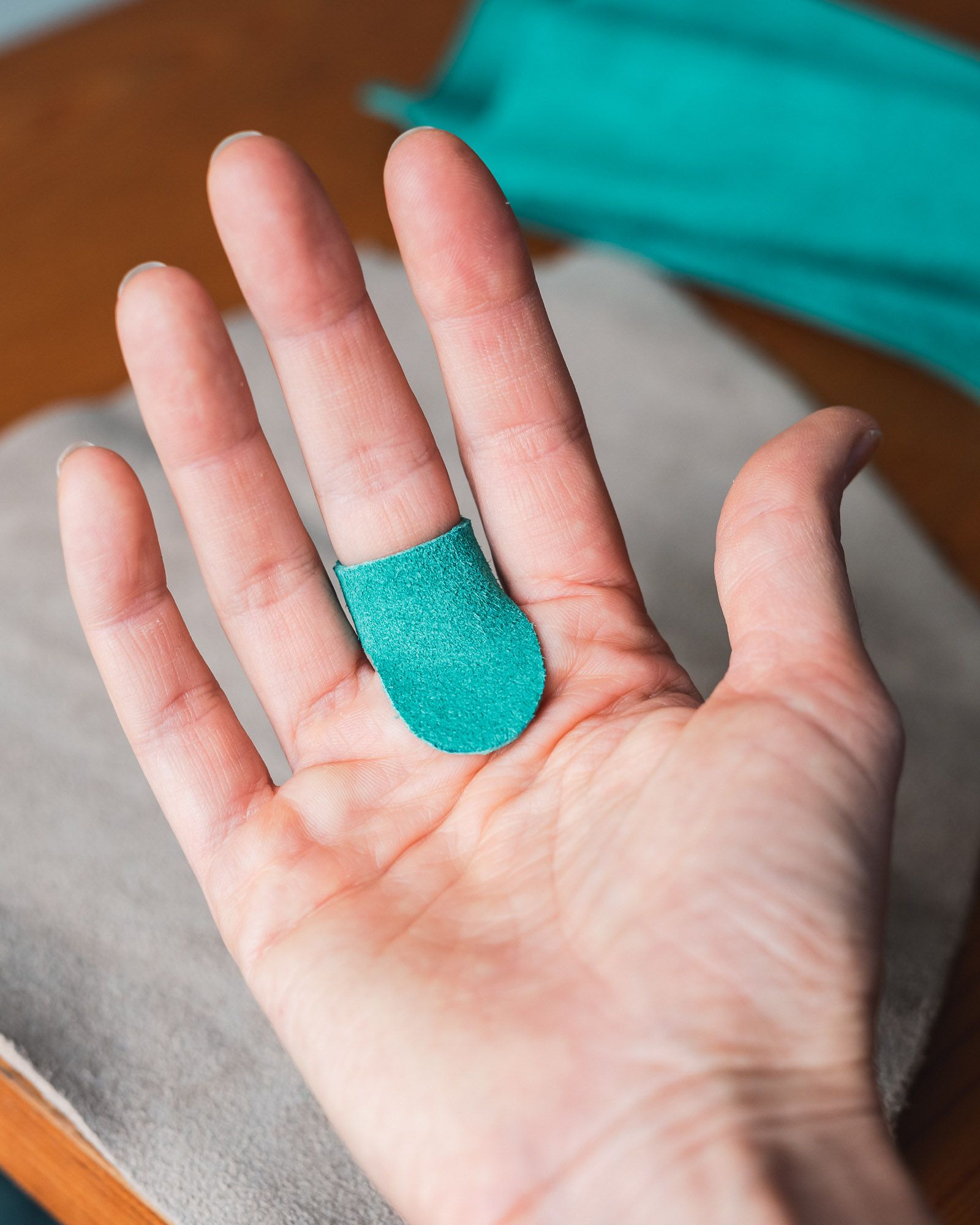 Thanks to the leather's grip, the needle doesn't slide off into your palm.
Even though leather thimbles are very durable, I assume they don't last forever. But I have used an Olympus leather thimble for many years and it's still in great shape.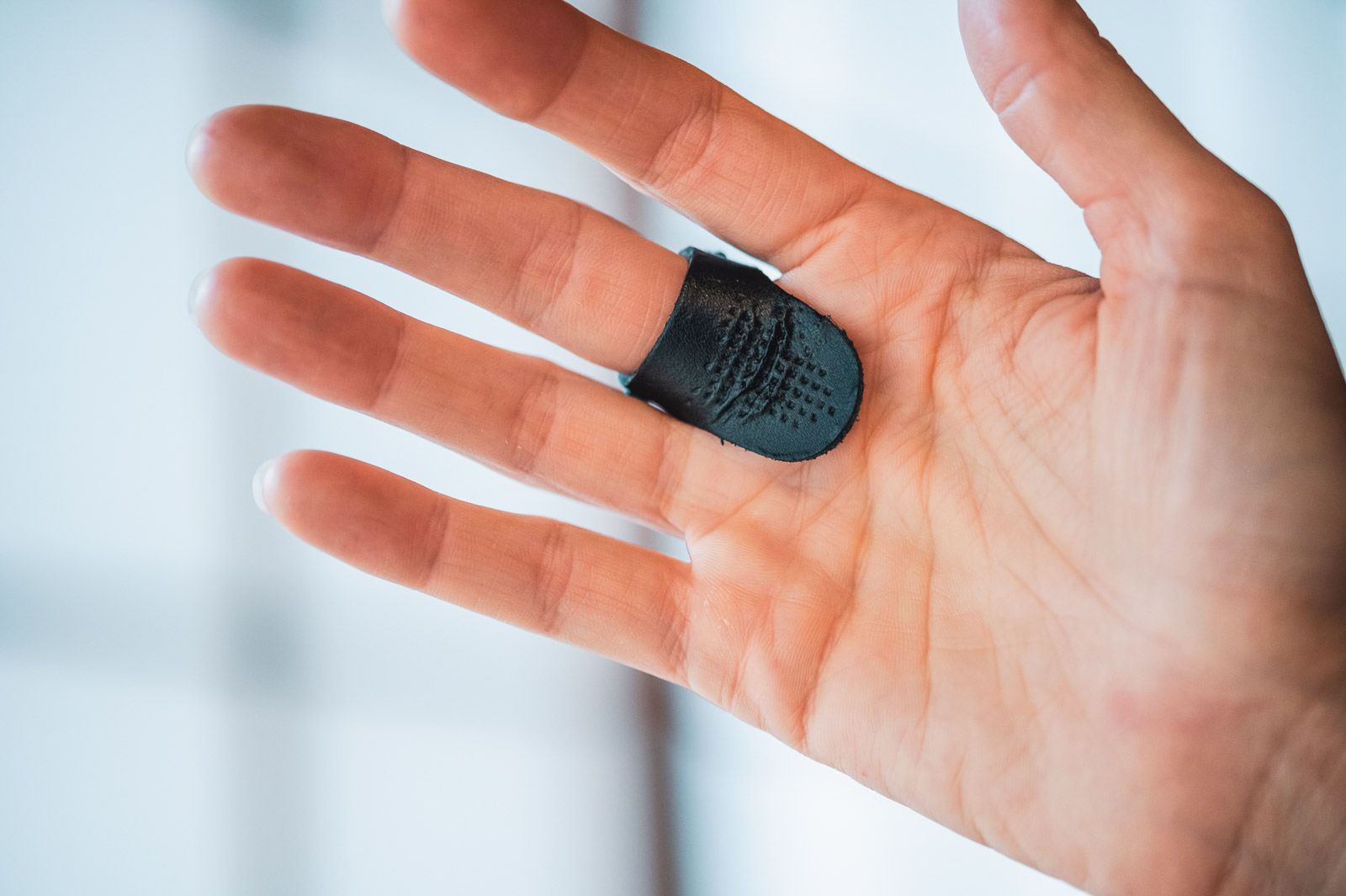 If you are new to sashiko, I really recommend trying the Olympus leather thimble out. Check the current prices  here.
Hard sashiko thimbles
Metal thimbles are very similar to leather thimbles. Some people don't find them as comfortable, but they are even more durable and don't need to be replaced.
The metal provides less grip than leather, but the plate has tiny dents so the needle doesn't slide.
If you want to use to sashiko technique for quilting or other projects where you have to pierce through several layers at once, the metal thimble may be a better choice for you. Clover has a good quality metal thimble.
Check the latest price here.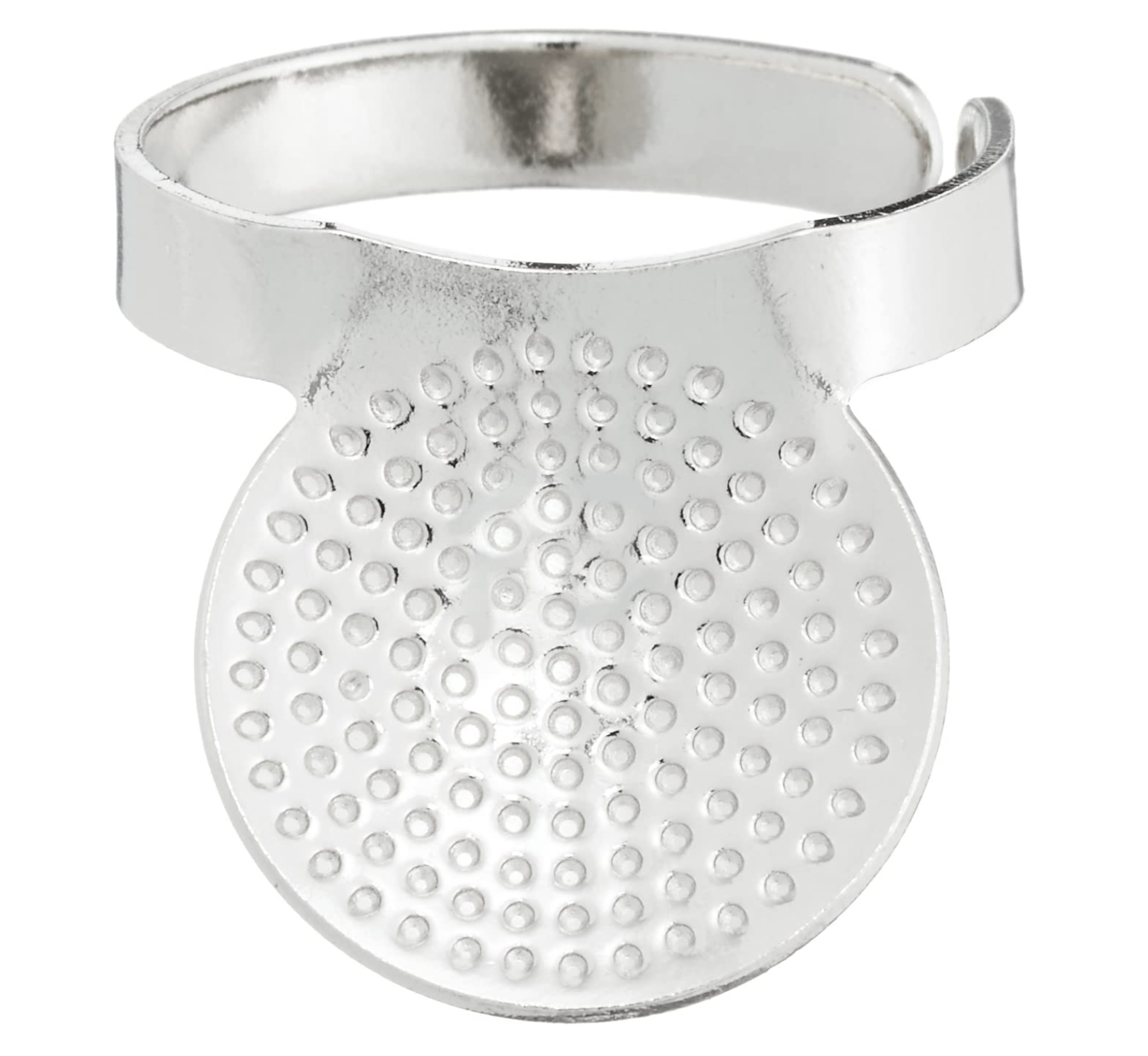 Thimbles that don't work for sashiko
Typical cap thimbles
Thimbles that sit on the first joint of a finger don't work well for sashiko. You can still use the thimble to push the needle through, but it's way harder than pushing with your palm, less steady, and you can't stabilize your needle while stitching.
If you only have this kind of thimble at home, you should buy one or make your own palm thimble from some leather scraps that you have at home.
Ring Thimbles
Kaga Thimbles
Kaga thimbles are beautiful Japanese thimbles worn like rings on the second joint of a finger. Threads in different colors create beautiful geometrical patterns. But the patterns not only look pretty, they also prevent the needle from sliding off the thimble.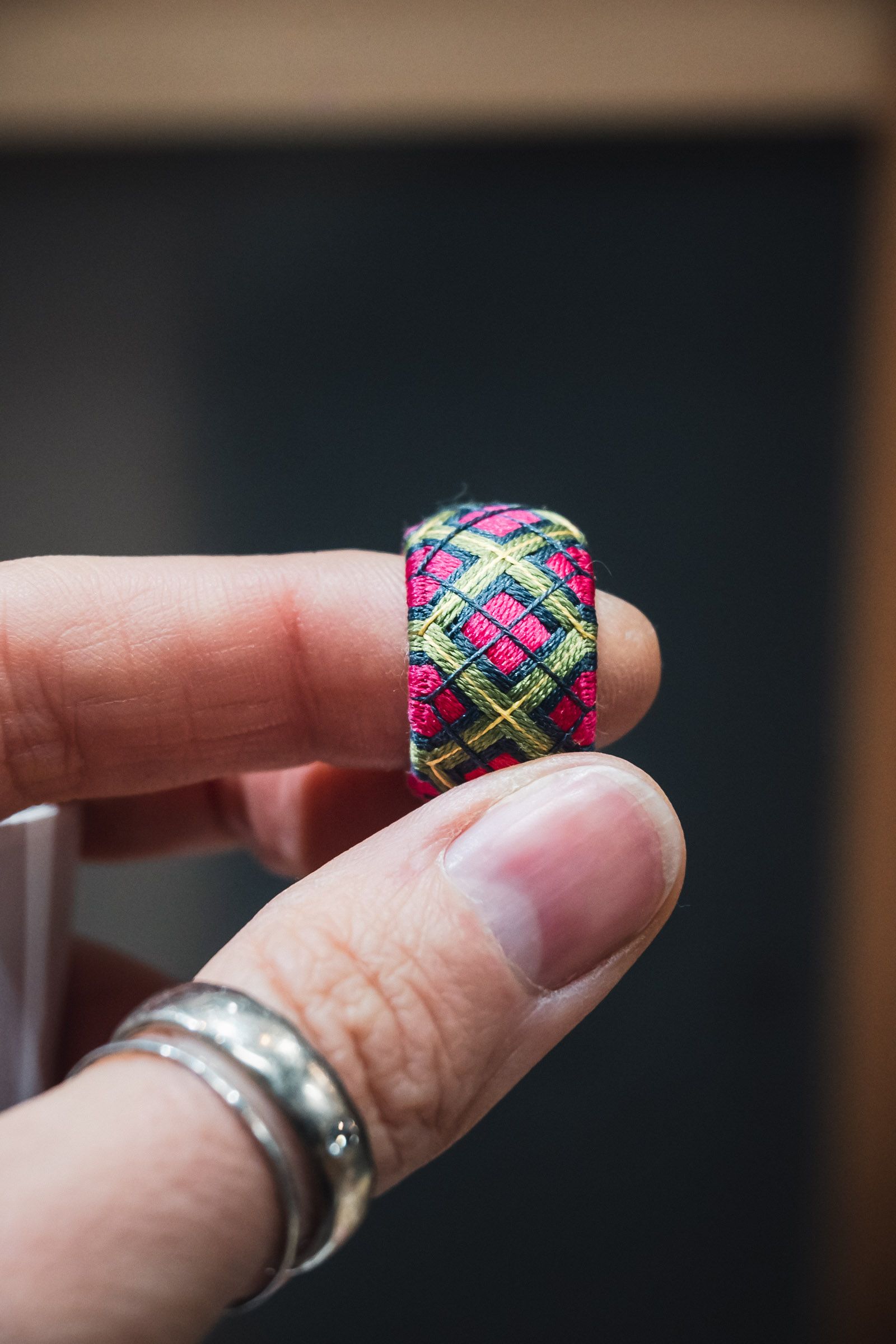 They are a viable option for embroiderers, but for sashiko, they are not a great match.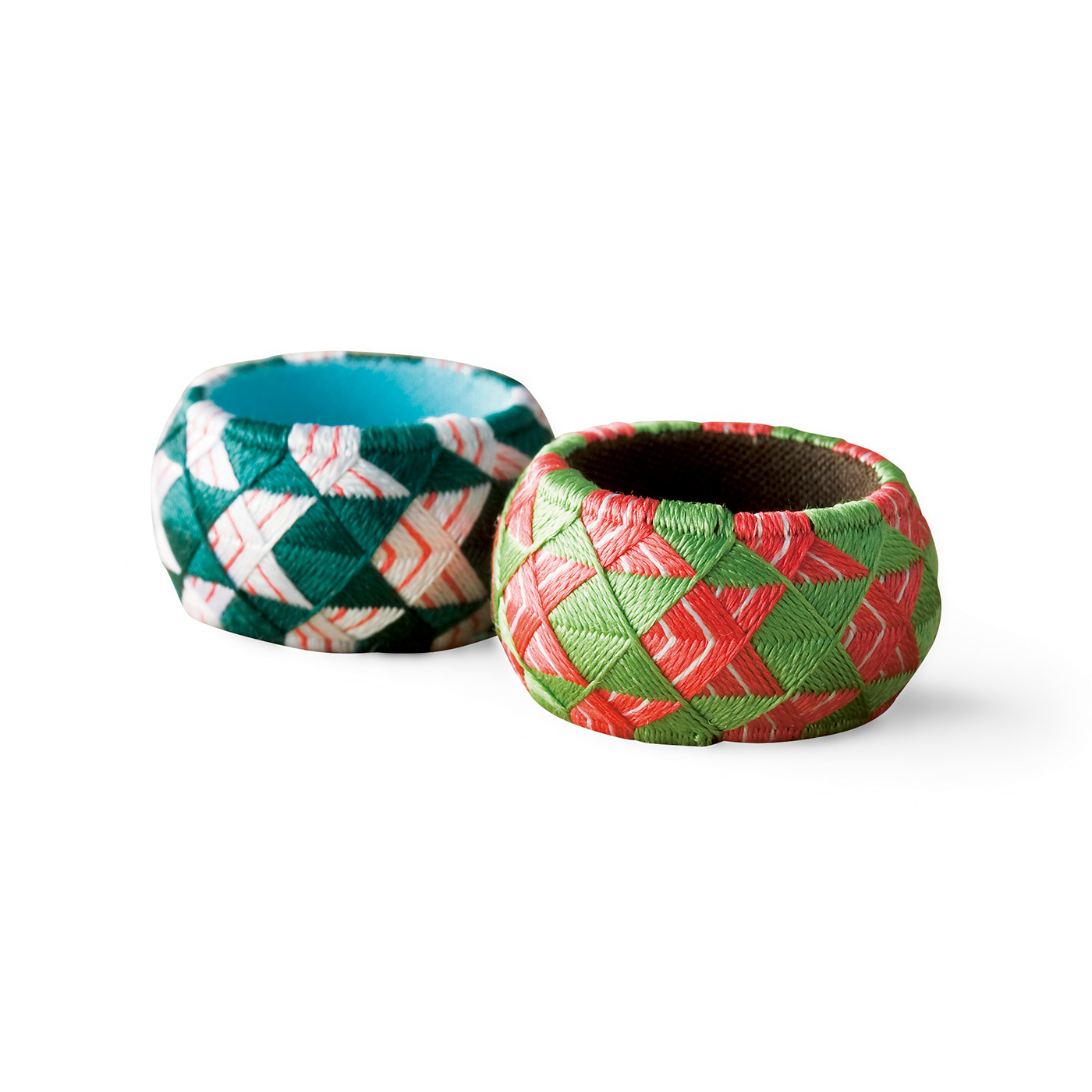 Leather ring thimbles
Same as Kaga thimbles, leather ring thimbles are worn on the second limb of your pointing or middle finger. They function in the same way as Kaga thimbles, so they are not suitable for sashiko.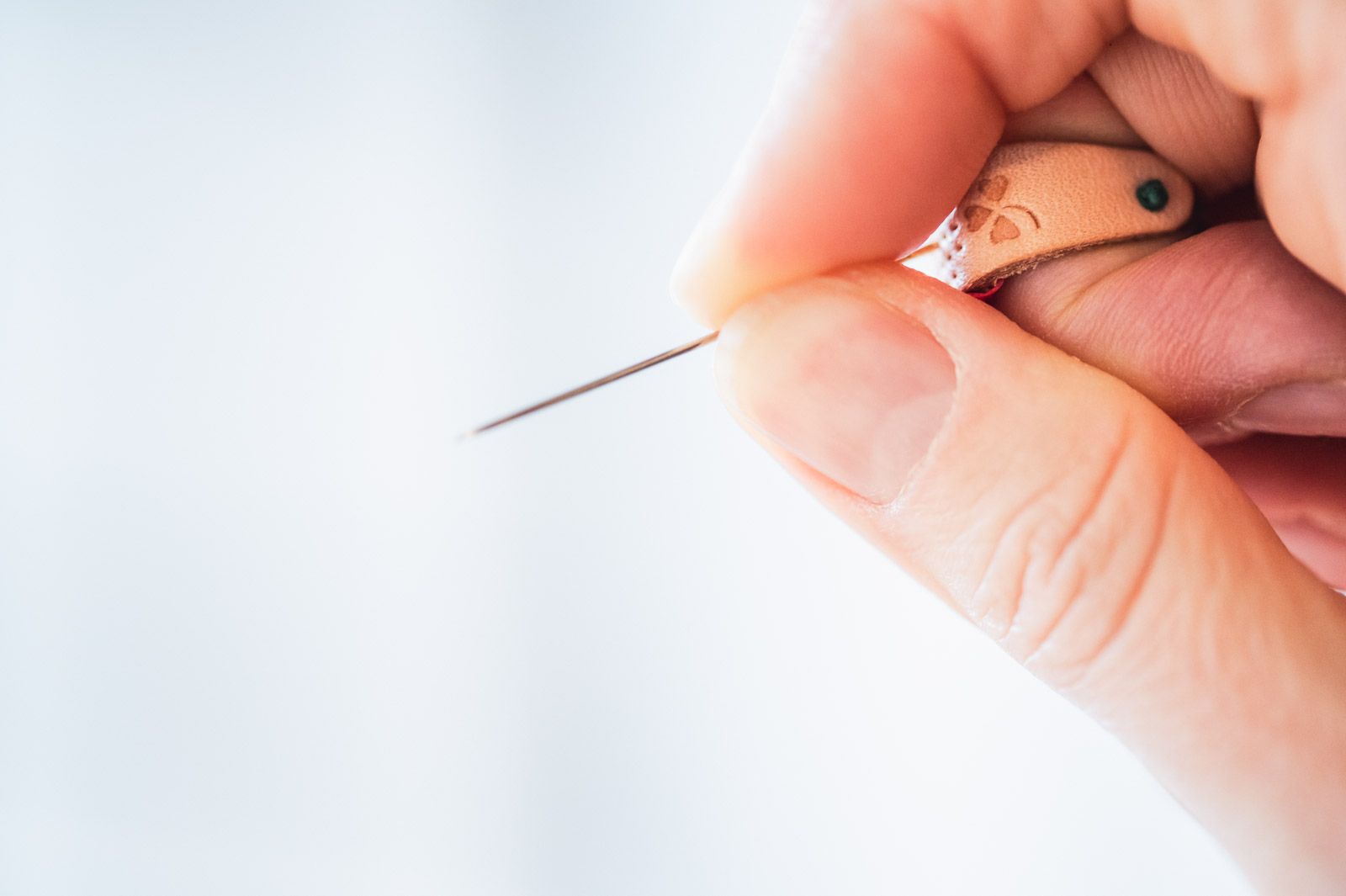 How to wear your thimble
Perfect fit
Put your thimble on the middle finger of the hand that holds the needle. Make sure to adjust the size of the thimble so it is not too tight.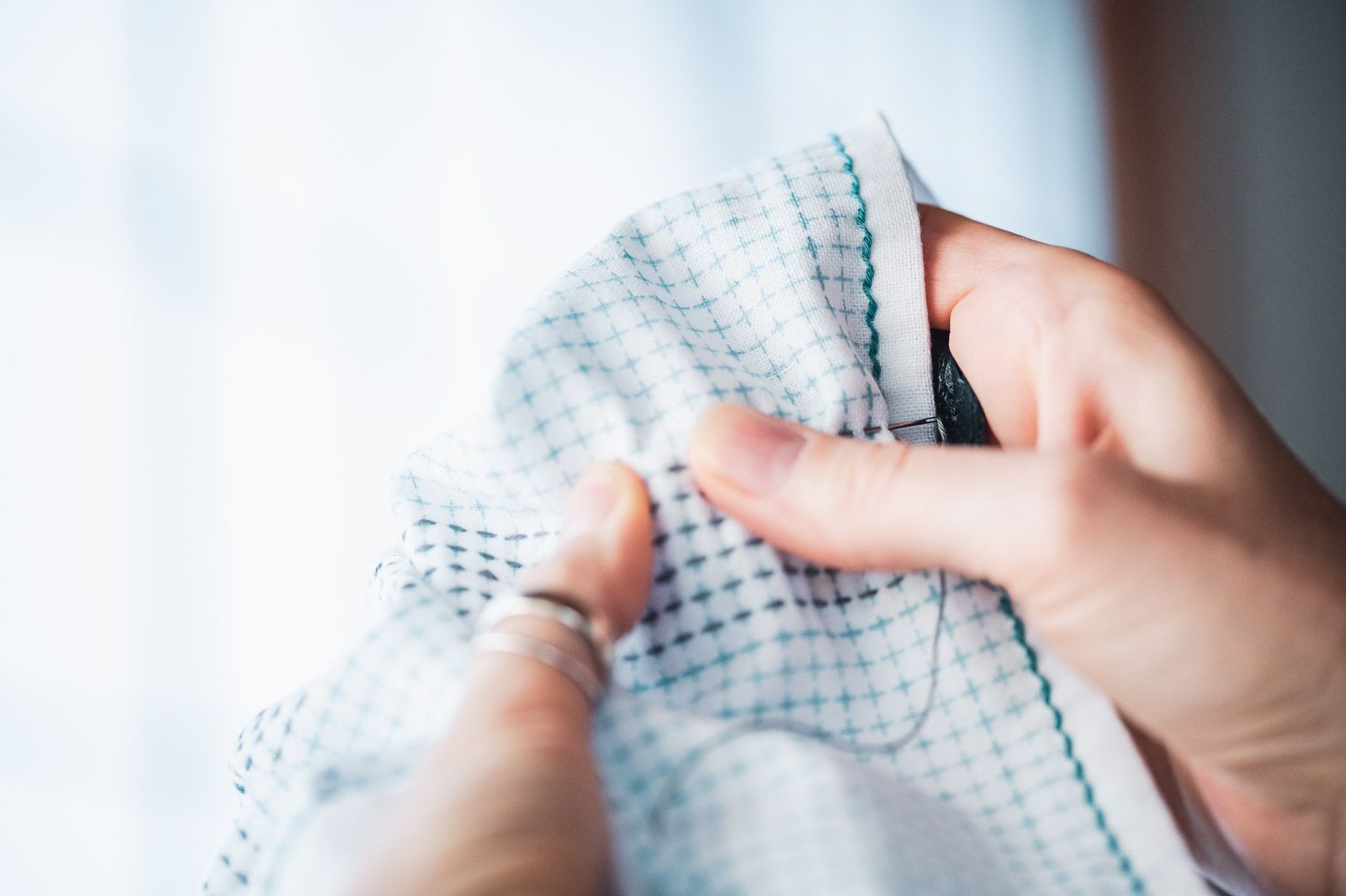 Most leather thimbles have rubber bands that hold them together. If the size isn't perfect for you, don't hesitate to cut the rubber band and exchange it for another so it has the perfect size for you.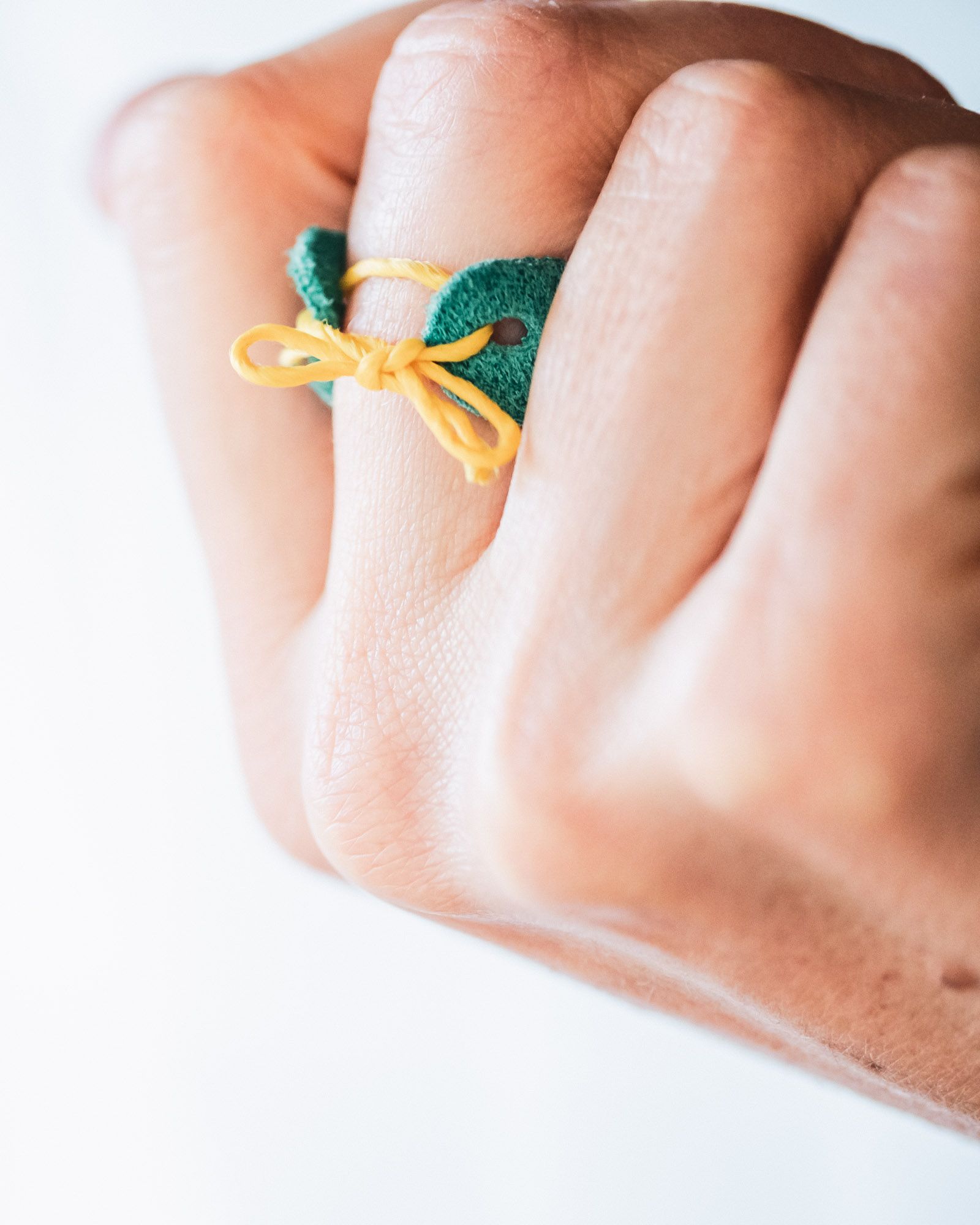 Metal thimbles often can be ajdusted by pulling their ring apart. Try around a little to make sure the thimble is comfortable but doesn't move around while it is sitting on your finger.
How to do sashiko with the help of a thimble
While stitching, the needle's butt is rested against the thimble to provide stability.
Your thumb rests on the needle where it is comfortable for you.
Your index finger is either on the wrong side of the fabric and holds the needle from underneath or it holds the needle on the opposite side of your thumb but nearer towards the butt of your needle.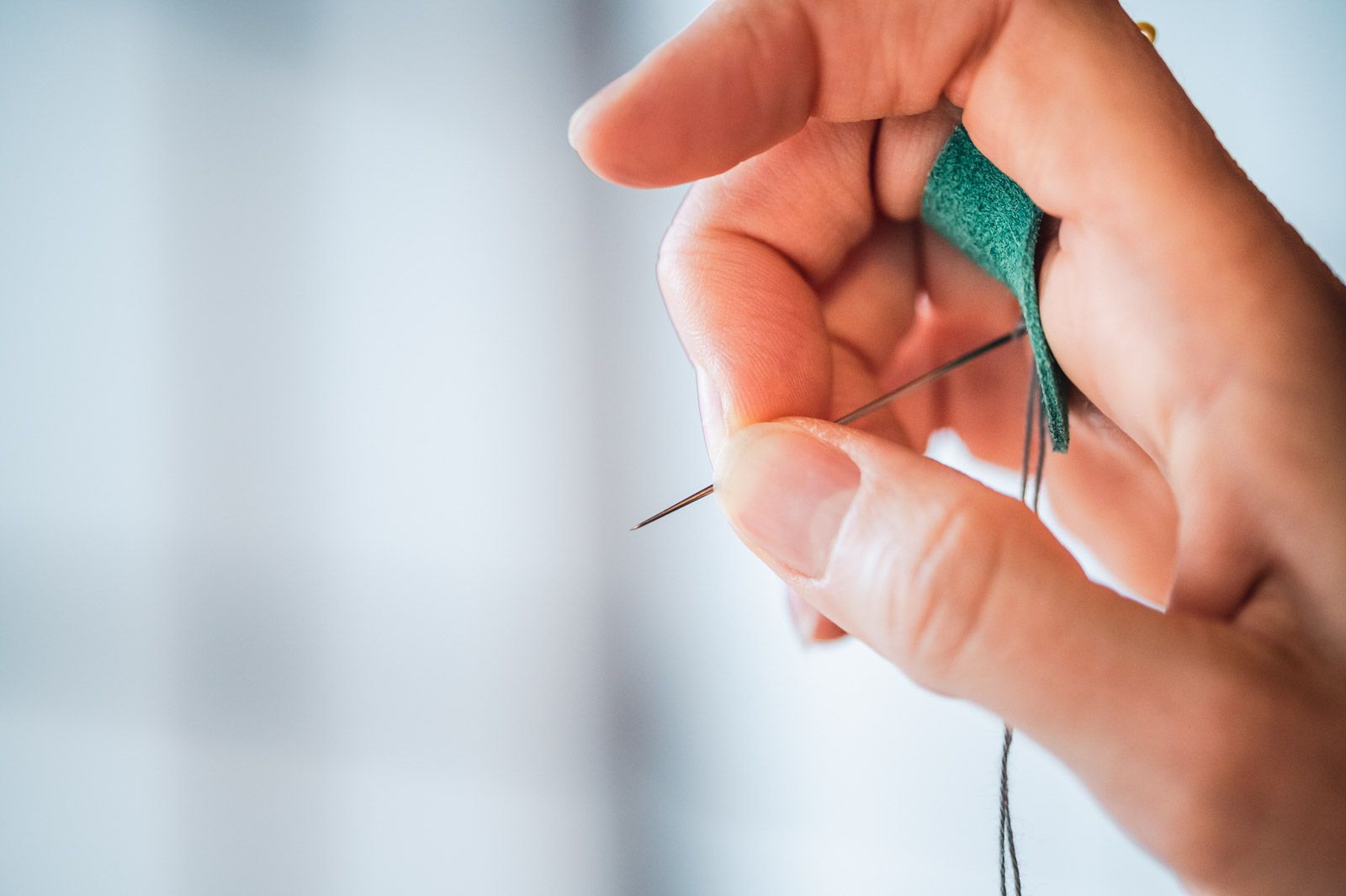 What if I don't like using a thimble?
If you have been sewing all your life, you might find using a thimble difficult or at least uncomfortable. There are two solutions for this problem:
Keep using your thimble, sometimes adjusting your grip and trying to find what works best for you until you get used to this stitching technique. I don't recommend giving up within a couple of hours of trying this technique. After all, thousands of women have developed this technique over the course for several hundred years. Don't dismiss it without even trying.
Ditch the thimble and stitch whichever way works best for you. There is no sense in struggling with the perfection of your technique if you don't enjoy sashiko as a result. If you like sashiko and you've found a technique that works for you, I'd say go for it. Don't trade joy for form.
If I have left some of your questions unanswered, send me a message and I'll get back to you!